Welcome to Canadian Marijuana Products Free Cannabis Directory
We are a new directory and yes, we are free!! No hidden costs, no credit card. 
Our goal is to provide an easy, free method for all Canadian cannabis related companies to add to their online presence
NOTE: If you see that we have already listed you, please contact us and we will give you the credentials to take over the account and edit your listing store.
How to Register and Create your
Step One:
The page below will open, please take a look at this form. Although your name is not required, it will certainly help us get a hold of you if needed, it doesn't appear anywhere unless you want it to
Step two
Login
You may be asked to solve a simple math question to prove you are not a robot
You will then be asked to login again, I know it's a hassle lol 
Now go to the menu bar at the top of the page and click "Create Free Listing"
First you can enter the category of your company.
Not sure what category? The category you want is not there? Please chose the closest category, remember to wait for the sub category dropdown to appear after choosing the main category.
Canadian selling category, is where anyone who sells, makes or grows either retail, wholesale, exports or online would list
The Brand category is where you can list any brands you grow, make or sell. you would use this if "YourCompany" name is different from your Brand or brands you carry (like Cadbury chocolate would list Kit Kat as a brand)
The Media category is for listing companies that do advertising, marketing, information Websites, bloggers, online stuff like news or magazines.
If your category is not there, please take note and contact us and we will add it
But I want two categories, one for my brick n mortar and one for my online store?? That's OK, after creating your listing, you can create listings for other categories or locations
If at any point your having issues or questions, please head on down the page to comments and ask away, I will try to respond quickly.
Note: - This can all be edited after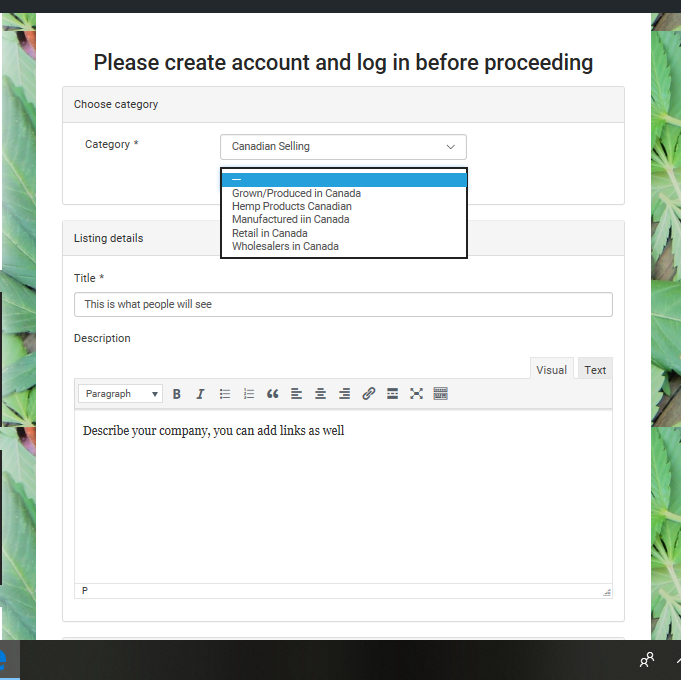 Next is your listing title this is what everyone will see first, usually your company name or webpage.ca. If this is listing your brand then it would go here. for multiple stores we recommend your title to be done like this Edooby.ca - Hastings this way your clients will be able to choose the location even if they didn't search by location - This can all be edited after
After your title is set, lets's create your description, if you don't have one in mind, Check out some other listings, or just copy and paste from your webpage, add inks if you want.
Now lets do the contact details, these will show up on your listing, Remember to wait for the cities to show up after choosing a province
Your city isn't there? then just type your city into the address field and please tell us... We are adding places everyday and yes we are working to improve this function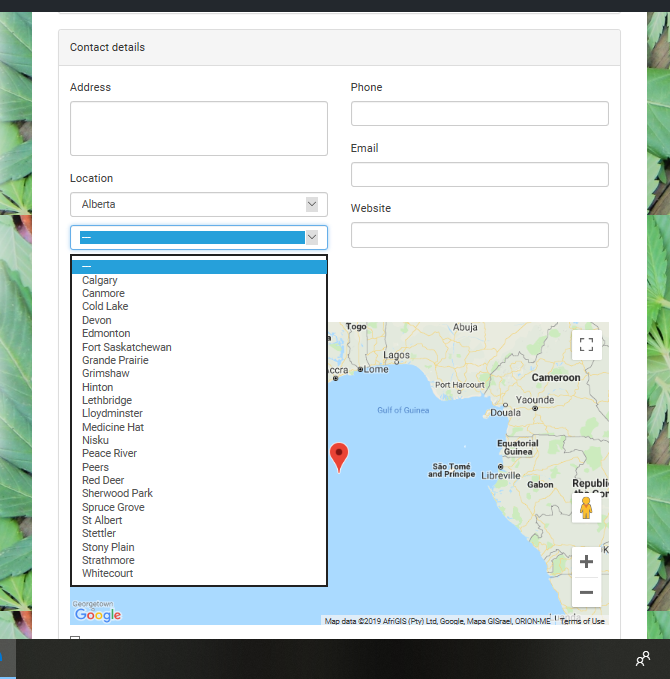 Almost Done
Map: on this map you will have to drag and drop the arrow onto your location, this does not affect the address you typed in and yes we are improving this as well.
Picture: add a picture, add it see how it looks and you can always change it later.Your picture displays differently in the small listing and the clicked on larger detailed listing, so check them both out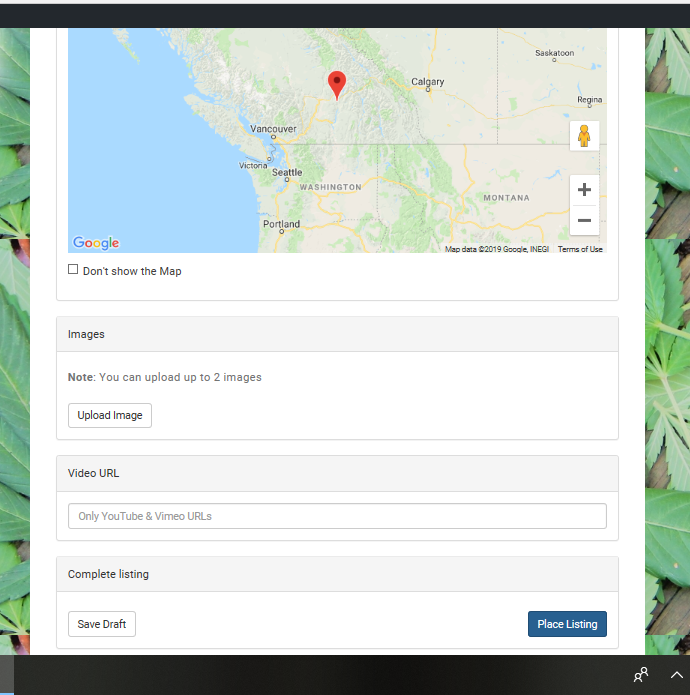 Add a video by linking to your YouTube or Vimeo URL
Last Step
Click on Place Listing button
Check out your listing, edit it, or add more
I hope these instructions assisted you. If you have any questions or comments please let us know below, we are new and growing rapidly customer service is a big priority for us.
Ready to create your account?
Ready to create your listing??